Nasmeca and CasteGames Studio, agreed a collaboration for creating 3D immersive environments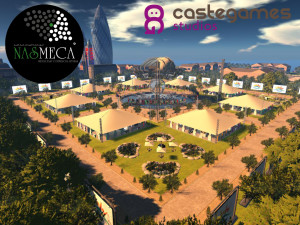 [vc_row][vc_column][vc_column_text]
Nasmeca and CasteGames Studio, agreed a collaboration for creating 3D immersive environments

We carry out virtualisations of the historical heritage, preparation of Trainings and Formations in an immersive 3D environment, until the elaboration of Fairs and Business, Cultural, Sports, Social, and Tourism Events in said environment, with the purpose of promoting and promoting the cultures of the Middle East so that all users have a virtual place through the New Technologies and can enter a fascinating world to learn to know their customs, culture and tourism in the Middle East.
The fundamental objective of this collaboration agreement is to promote Middle East tourism and teleport it to all of Europe and America so that they know the mysteries, customs, culture, so interesting, to attract the user and have the need to travel to the Middle East, because he has been fascinated with the charms that surround the Middle East in the virtual world and with the idea that they will enjoy in the Real World.[/vc_column_text][/vc_column][/vc_row]

European Commercial Affairs in Middle East.