Corporate Education is ESIC's Unit
with the mission of helping companies in their transformation, competitiveness and innovation through theempow erment of their talent.
ESIC
We in Corporate Education at ESIC
are firmly convinced that people are the biggest asset of companies.
Therefore, we believe that the investment with the biggest impact in a Company is that dedicated to the continuous empowerment of its professionals.
People and their Training are key for transformation, reinvention and sustainable competitiveness of organizations.
Who are our targets
Companies
Administrations
Institutions and Associations
Corporate Education caters to a wide network of customers.
"People and their Formation are the key to the transformation, reinvention and sustainable competitiveness of organizations"
Our value proposition
Our commitment to organizations is to provide them with more capable talent and to reinforce their intellectual leadership in the market as the best way to attract and gain the loyalty of the best talent and therefore, to be more sustainably competitive in VUCA environments.
ESIC EXPERIENCE +50 YEARS
Forming national and international companies.
Encouraging the training of your teams.
Working to evolve as Learning Organizations.
REFERENCE PROFESSIONALS
Faculty of teachers reference in business training.
More than 600 professionals with extensive teaching experience set up a human team in constant updating and professional growth. The ESIC cloister is made up of people who play the management role in leading companies in their industries.
Impact areas for companies
Corporate Education empowers the talent of companies to manage and govern teams, projects and customers,
in changing, agile environments, in a digital context impacted by disrupted technologies.
Through the design of its custom training scheme, from the perspective of the 6 areas of greatest impact on the present and the future of organizations.
SOME OF THE ESIC CUSTOMERS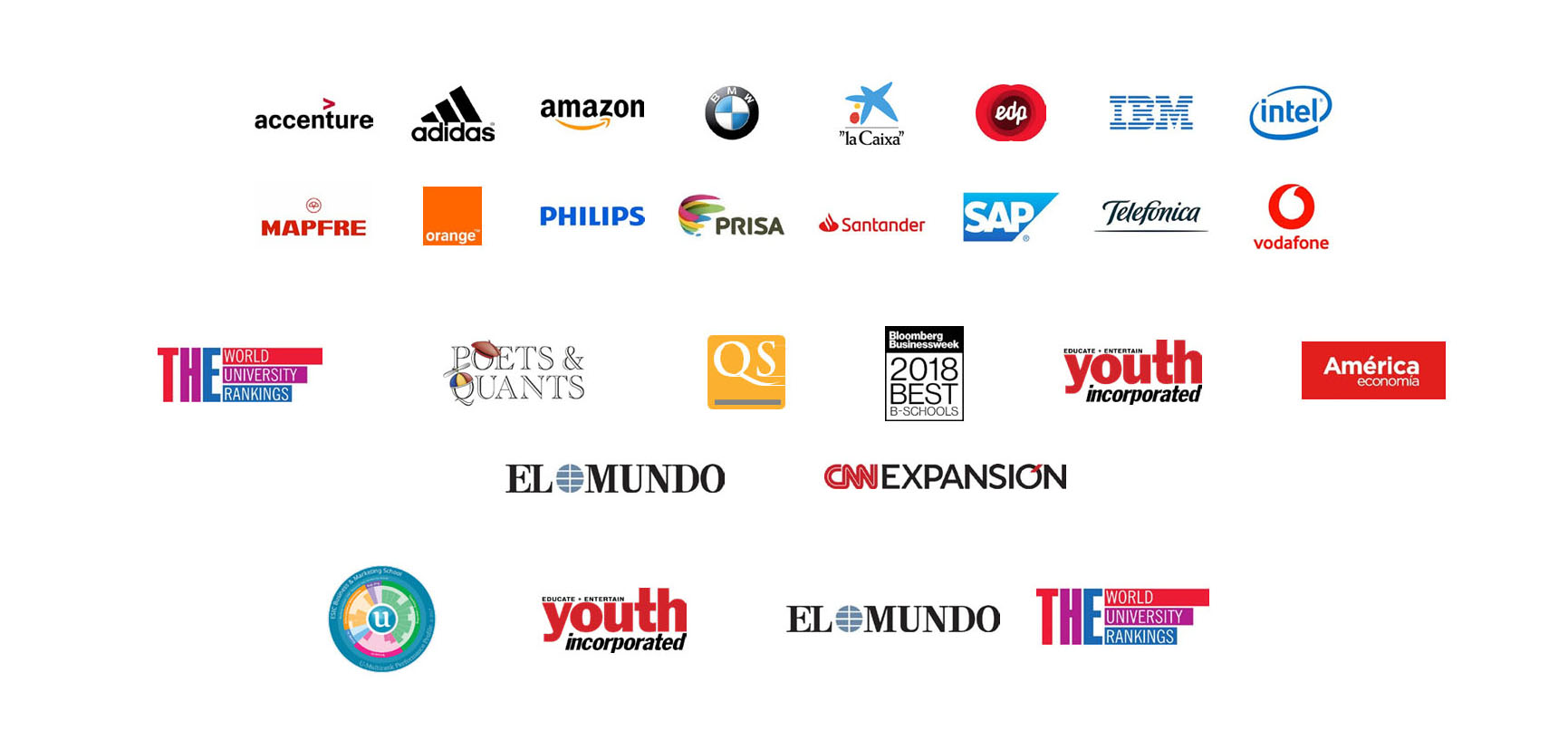 ACCIONA
ACCON
AIR LIQUIDE
ALIMARKET
ALLERGAN
AMADEUS
AMAZON
AMC NETWORKS
ATENTO
ATRESMEDIA
AZUCARERA ESPAÑOLA
BANCO NACIONAL COSTA RICA
BANCO SANTANDER
BANKIA
BASF
BBVA
BMW
BONDUELLE
BOSTON MEDICAL
C.U. CARDENAL CISNEROS
CAIXABANK
CAJAMAR
CAMPOFRIO
CARREFOUR
CELGENE
CEPSA
INSUD PHARMA
COFACE
COFARES
CONTENURCONTINENTAL
CORREOS
COSTA CRUCEROS
DKV
DRAEGER
EDELVIVES
EDP
EL CORTE INGLÉS
INFORMA D&B
ENRESA
ENDESA
FERROVIAL
FERROVIAL SERVICIOS
FRATERNIDAD MUPRESPA
FUTURE SPACE
GENERALI SEGUROS
GESTHISPANA
GESTILAR
GRUPO COSENTINO
GRUPO MARS
GRUPO SM
ZENA ALSEA
GYRO
HAZERA
HENRY SCHEIN
HYDRO BULDING SYSTEM SPAIN
IBERDROLA
ICCS IKEA
IPSEN
IRIS MEDIA
JTI
LEROY MERLIN
LÍNEA DIRECTA ASEGURADORALLYC
LOGALTY
MAPFRE
MERCEDES BENZ
MICHELIN
MIXER PACK
MULTIOPTICAS
MUTUA MADRILEÑA
NATURA HAIR SYSTEM
NAVANTIA
NIELSEN
ORACLE
ORANGE
PALIBEX
PELAYO
PEPE JEANS
PONS IP
PRISA
PULLMANTUR
PWC
RCABLE
REPSOL
RGA
ROYAL CANIN
SACYR
SAINT GOBAIN
SANTALUCIA SEGUROS
SAP
SCHAEFFLER
SECURITAS DIRECT
SEUR
SIKA
SUPERSOL
TECNATOM
TELEPERFORMANCE
THYSSENKRUPP
TOLSA
TRAGSA
UNIVERSAL MUSIC
VODAFONE
VOLKSWAGEN
ZOETIS
CAJA RURAL DE NAVARRA
CONGELADOS DE NAVARRA
INTERMALTA
LIMAGRAIN
SMC
GONVARRI
BRICO DEPOT
EATOUT
PIERRE FABRE
TSB
GRUPO GODÓ
BANC SABADELL
PETRONAS
BON AREA/GUISSONA
VIDACAIXA
OPPLUS
DEKRA
ALTRA AIRZONE
SP GROUP
WINTERHALTER
TIENDANIMAL
UNICAJA BANCO
LIMASA
HINOJOSA
STADLR
CONSUM
BAYER
DIVINA PASTORA
ADIDAS
BSH
EXIDE
HMY
SAICA
GRUPO ÁGORA
GRUPO SAMCAHENNEO
GRUPO CARRERAS
IBERCAJA
PIKOLÍN
INDITEX
SOCIOECONOMIC ENTITIES
ASOCIACIÓN INSERTA EMPLEO
CETM CONF. ESPAÑOLA DE TRANSPORTE DE MERCANCÍAS
CLUB DE MARKETING DE LA RIOJA
COLEGIO DE ECONOMISTAS DE ASTURIAS
COLEGIO DE VETERINARIOS DE MADRID
CONFEBUS CONF. ESPAÑOLA DE TRANSPORTE EN AUTOBÚS
FUNDACIÓN EUROCAJA RURAL
FUNDACIÓN HORIZONTE XXII
FUNDACIÓN VET+I
CÁMARA DE COMERCIO DE CASTELLÓN
COLEGIO ECONOMISTAS DE ALICANTE
CONFEDERACIÓN DE ASOCIACIONES EMPRESARIALES DE BAL
PUBLIC ADMINISTRATION
AYUNTAMIENTO DE MADRID
AYUNTAMIENTO DE SEVILLA
AYUNTAMIENTO DE TRES CANTOS

AYUNTAMIENTO DE ARGANDA DEL REY
COMUNIDAD DE MADRID
GOBIERNO DE ARAGÓN
INSTITUTO NACIONAL DE ADMINISTRACIONES PÚBLICAS
JUNTA DE ANDALUCÍA
JUNTA DE CASTILLA Y LEÓN
JUNTA DE EXTREMADURA
UNIVERSIDAD POLITÉCNICA DE VALENCIA
REQUEST INFORMATION FOR BUSINESS TRAINING (ESIC)

European Commercial Affairs in Middle East.